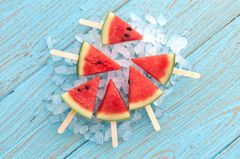 36 degrees and it gets hotter?
That screams for cooling!
Here are 10 tips against heat - so you can get fresh through the summer!
Wonderful, our wonderful summer weather - but sometimes very hot!
And those who are not able to spend the hours of sunshine at the nearest swimming lake often long after
cooling off
.
That is exactly why we have put together ten effective tips against heat for you.
So you come through the summer with a cool head.
Anti-heat tip 1: Cooling down for hotheads
If you have to sit in the office in tropical temperatures, you can always fog your face with a moisture spray.
This refreshes and nourishes the skin at the same time: additives such as sorbitol and glycerol have a moisture-binding effect, aromas such as orange and lime stimulate, mineral, and especially thermal water soothing.
It is best to gently tumble in the fine droplets with your fingertips - stimulating like a summer rain!
If you are not in the office, you can alternatively get a paddling pool for the balcony.
Because what could be better than dipping your feet in ice-cold water - with a cool drink in your hand.
Anti-heat tip 2: Cold kick through ice cubes
A little rubbing with ice cubes that slowly melt on the skin is more than cool: it also trains the vessels, tightens the tissue, and is therefore ideal for the cleavage and thighs.
So that the skin does not get a cold shock and we stay nice and fresh: just run over it briefly with a cube or wrap several cubes with a washcloth.
Anti-heat tip 3: Start the day fresh
After showering, do not rub the body with the normal body lotion - instead, use Bodytonic instead.
Ingredients such as mint, tangerine, lemon, basil, ginger, cardamom or coriander are particularly refreshing.
Even better: store the Bodytonic in the refrigerator.
Freshness kick guaranteed!
Anti-heat tip 4: Cool UV protection
Sun care with ice cube effect ensures goose bumps even in tropical temperatures.
The secret: an extra dose of menthol.
Many manufacturers now have cooling sun protection and after-sun products in their range.
Spray on, brrrrr and off to the sun!
Anti-heat tip 5: powder trick
Not only Asian women swear by body powder to make them heat-free.
The beautiful dust absorbs sweat beads like a blotter and has a pleasantly cooling effect.
Tip for wet hands: Just sprinkle a little baby powder on top and blur slightly.
Anti-Hize Tip 6: Cool massage
Sounds simple, but works great with hot flashes: Dip the middle fingertips in ice-cold water and touch the temples with light pressure.
The cooling effect starts immediately.
Anti-heat tip 7: Become a warm shower
No matter how hot it gets: Please don't shower off cold!
Due to the cold, the pores contract in a flash, the
heat
can be
dissipated more
poorly, and you sweat even more.
Better: shower only lukewarm.
Anti-heat tip 8: tea for dry times
Sage is an unbeatable remedy for anyone who sweats a lot in summer.
The herb reduces perspiration.
It is best to drink two cups of sage tea throughout the day.
Also great: take a bath with sage on sweaty feet.
Anti-heat tip 9: Refreshing snacks
And another tip from the Asians: In traditional Chinese medicine, foods are classified into warm, hot, and cold - depending on how they affect the body.
Apple, pear, kiwi, orange, and watermelon are said to cool and refresh the body.
Anti-heat tip 10: hair up and coneflower
Sounds banal, but it does a lot: Long manes are better tied up in hot temperatures.
This is how the air comes to the forehead and neck.
It is best to protect your scalp outdoors with a sun hat because nothing helps better against UV rays.